2.3.2

Fleet

SBM Offshore's assets are key value drivers for the Company, delivering the required production performance to meet client targets and generating a predictable revenue for SBM Offshore through its long-term lease and operate contracts. The expertise and experience of almost 2,400 offshore crew and onshore staff, supporting the fleet, ensures value creation through safe and efficient operations of the Company's offshore fleet.
KEY FIGURES IN 2017
5.3 billion barrels production cumulated to date
7,635 offloads cumulated to date
304 cumulative years of operational experience
In 2017 the fleet achieved its best performance to date in terms of recordable injury rate and sustained a record average production level in the range of 1 MBbls per day in the second half of the year, as FPSO Cidade de Maricá and FPSO Cidade de Saquarema reached full capacity production levels, having started up in 2016.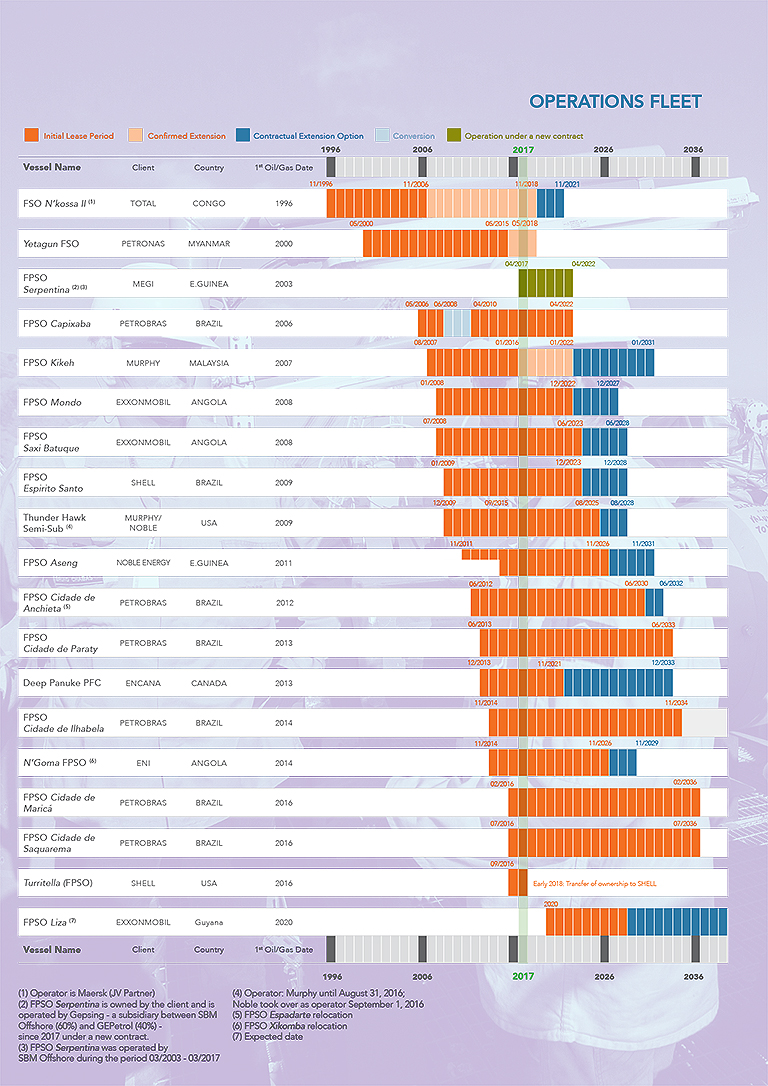 The transition phase for the handover of ownership and operations of the Turritella (FPSO) to Shell was largely concluded with no impacts on the operational performance. Final transistion took place in January 2018 and SBM Offshore will continue to support the Client as required to ensure continuous operational performance through the handover.
FPSO Serpentina offshore Equatorial Guinea has been operated since April 2017 by GEPsing, a subsidiary co-owned by SBM Offshore and the National Oil Company GEPetrol. The new contract, for five years, replaces the former one between MEGI (Mobil Equatorial Guinea Inc. affiliate of ExxonMobil) and SBM OC, which expired end of March 2017.
FULL FLEET (AS OF DECEMBER 31, 20171 , 2)
In 2017 SBM Offshore was responsible for the operations of 16 units and the maintenance of all 18 units in the fleet across the globe consisting of:
14

FPSO

s
2

FSOs

1

MOPU

1 Semi-submersible unit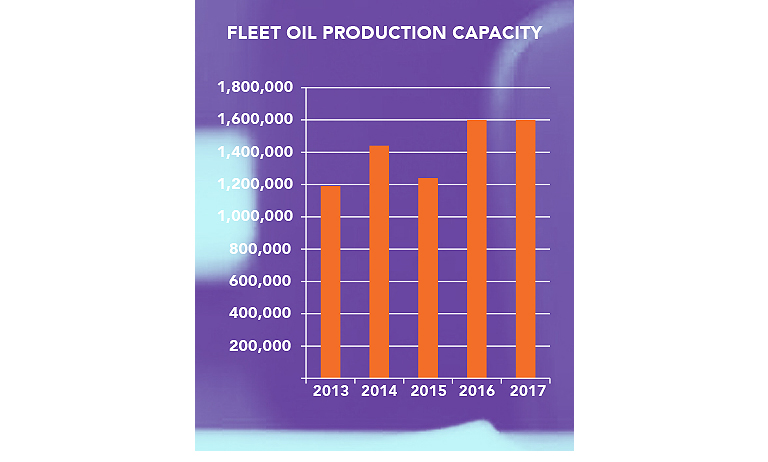 operational performance
SBM Offshore is committed to delivering consistent, reliable and safe production performance of its units, while adhering to its environmental objectives. The main production performance indicator of the fleet is 'Production Uptime'. It measures the percentage of time in which a unit is available to produce. Historically, uptime of the fleet has been around 99.0%. With an uptime of 98.3%, performance in 2017 stayed within historical levels, while the fleet achieved its record production level in terms of barrels per day. A few factors contributed to the Production Uptime results in 2017:
Two complex Generation 3

FPSO

s offshore Brazil increased production smoothly up to design capacity (start-up in 2016).
Turritella (FPSO) was brought to stable performance mid-2017 (start-up in 2016).
Deep Panuke (MOPU) had an interruption of its gas production for 20 days in June for maintenance activities.
The other units of the fleet operated around 99% Production Uptime, with no significant performance events.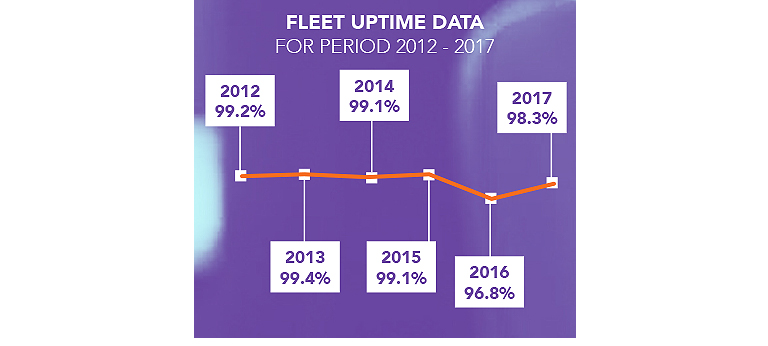 OPERATIONS OPTIMIZATION
SBM Offshore focused on key areas of improvement in the area of HSSE. Specific initiatives were developed to improve operational performance through the reinforcement of Water Injection, Supply Chain and Planning capabilities.
Personnel headcount per produced barrel decreased by 20%, compared to 2016. Various factors, beyond the production increase, contributed to this result:
The efficient integration into existing Santos and Houston offices of the operating teams associated to the three

FPSO

s added to the fleet in 2016.
The restructuring of the Brazil office was completed, with the aim to support the local Operations and project execution organizations with shared staff function services.
The onshore teams for FPSO Aseng and FPSO Serpentina were efficiently merged into one GEPsing organization in Malabo.
Social Accountability Standard in Fleet Operations
The Company is taking steps to comply with the Group's Social Accountability Manual standard, which is based on SA 80003 standards. Using a risk-based approach and for locations where there is a gap between the local regulations and the expected standards, the local operations office has to adhere to the Company manual and obtain external verification within two years of opening a new shorebase. For all other locations, local regulations will prevail.
Asset integrity, maintenance AND cost management
SBM Offshore's approach to Asset Integrity is to ensure asset preservation with optimal lifecycle costing. In 2017 progress was made on several related programs:
SBM Offshore' Digital

FPSO

project progressed and a number of applications are in advanced design stage or under execution, in parallel with the upgrade of the IT support infrastructure. The project solutions will increase safety and efficiency onboard, significantly improving asset performance.
Deployment of technologies for inspections and maintenance activities onboard continued, with the aim to improve efficiency whilst reducing safety risks. Notable achievements in 2017 were: tank cleaning with Vacuum systems prior to entry for inspection activities; the use of drones for inspections at height and at locations with difficult access or for on-stream inspections; diver-less hull inspections; non-intrusive on-stream inspection for pressure vessels, and in-situ hull repair techniques without hot work.
The Company's approach to planned maintenance shutdowns on

FPSO

s has now reached a high level of maturity through the application of standardized processes for planning and execution in the selected shutdown windows.