2.12

Sustainable Business
Management Approach
Sustainability is an important value driver for SBM Offshore's long-term business and operations with a focus on Environmental, Social and Governance issues. The Company aims to be the industry frontrunner on sustainability as reflected in the Company's vision. To achieve this ambition, SBM Offshore continuously strives to promote sustainability awareness, develop talent within the Company and incorporate ethics and integrity into all its activities. Embedding sustainability as a way of working in SBM Offshore is founded on continuous engagement with its employees.
SBM Offshore believes in doing business that adds value and benefits all stakeholders, with specific focus on clients, employees, shareholders, partners and society in general. SBM Offshore considers this to be fundamental to its activities. Reporting on successful sustainable initiatives, charity projects and donations will improve awareness and further encourage engagement.
Hester Holtland − Vereniging van Beleggers voor Duurzame Ontwikkeling (VBDO)
Project Manager Sustainability and Responsible Investment
'SBM Offshore shows a mature approach towards integrated reporting. Under the pillars 'License to Grow' and 'License to Operate', SBM Offshore focuses on an competitive and commercial advantage by developing sustainable solutions. SBM Offshore also dedicates a chapter to Non-Financial Data, a step that VBDO applauds.'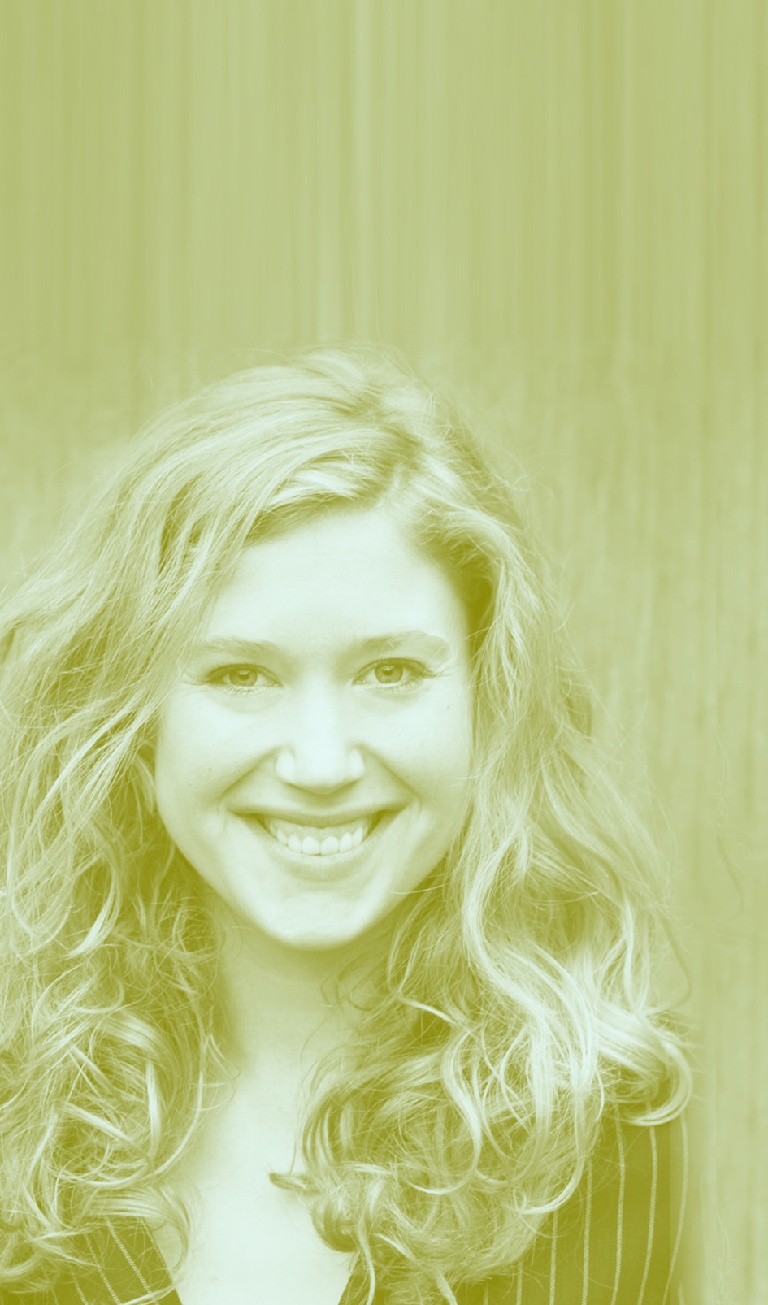 Sustainability Framework
Under what is called 'License to Grow', the approach is to create a competitive and commercial advantage by developing sustainable solutions that go beyond current rules and regulations, which are the obligations under the Company's 'License to Operate'. Over time, these solutions are embedded in the Company's mainstream business development and operations.
'License to Operate' refers to the standards required to operate in accordance with the law and regulations on ethics, safety, health, quality, labor standards, environmental standards, governance and on meeting client requirements and specifications for their project development. SBM Offshore's sustainability strategy is founded on developing the core functions of the Company to meet these standards among others. SBM Offshore has a long history of managing and reporting its performance on a wide range of the 'License to Operate' aspects.
The 'License to Grow' themes and objectives reflect the focus of SBM Offshore's Sustainability strategy to achieve value creation and is material for the Company. SBM Offshore believes that Sustainable Business will create a 'License to Grow', facilitating its future success. The Company focuses on long-term, shared, value creation for the four themes of 'Manage environmental impact', 'Shape innovative solutions with the client', 'Create a cost-effective supply chain' and 'Foster local development'.
2017 Performance
The level of performance is measured by the successful implementation of objectives as defined over the four themes under the License to Grow. In total fourteen objectives were identified, of which eight have been further developed and have been embedded into the Company's License to Operate.
Renewable technology has developed from conceptual design to the commercial stage.

A new

Product Line for Gas, Power and Renewable Energy was created.
The objective to standardize the environmental footprint of

FPSO

operations was initiated with the CO2 Challenge (see section 2.5.1 CO2 Challenge) and is being further developed under the Digitalization project.
A list of creative ideas to develop Eco-design options for

FPSO

operations was generated as part of the CO2 Challenge (see section 2.5.1 CO2 Challenge) and handed over to

R&D

for implementation in their process.
Reducing the environmental impact in offices has been completed as part of the CO2 'Office' Challenge.
The Responsible Supply Chain project has been kicked off with the main objective to integrate human rights aspects in the selection criteria for suppliers (see section 2.10 Supply Chain).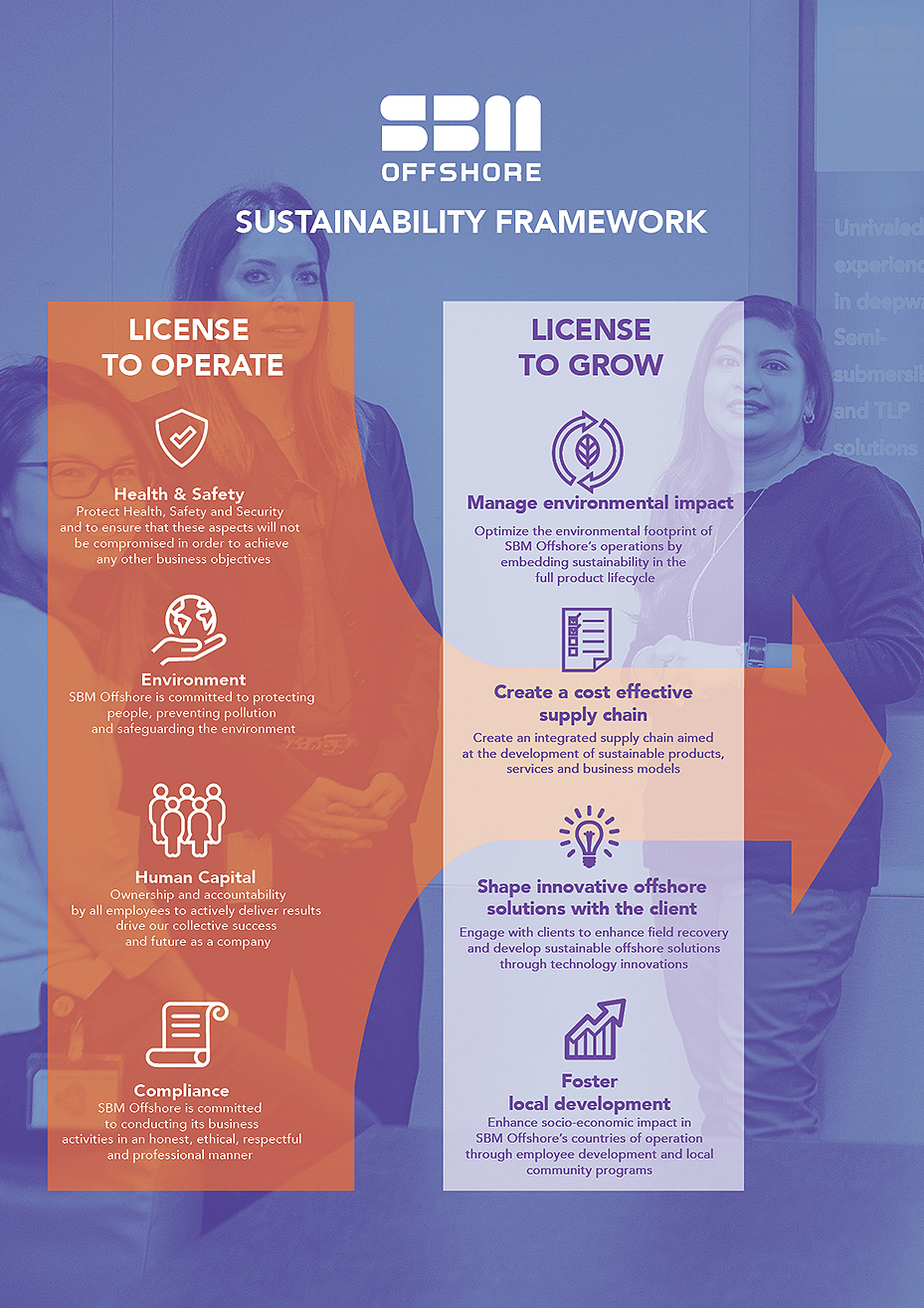 Business development teams continue to approach clients and/or partners to engage in dialogue to optimize field development and field economics for clients.
All four units that have been or will be decommissioned since publication of SBM Offshore's Vessel Recycling Policy in 2014 are recycled in accordance with Hong Kong Convention for end-of-life solutions.
Sustainability reporting and benchmarking
SBM Offshore commits to reporting its sustainability performance against the Global Reporting Initiative Standard in a transparent manner and reports on indicators for its sustainability policies, which reflect all the material topics (see section 5.1 Scope of Non-Financial Information).
SBM Offshore has been included in the Dow Jones Sustainability Index World (

DJSI

) for the eighth consecutive year and received the Silver Class distinction based on its 2017 sustainability performance.
Other external institutes like the Carbon Disclosure Project (

CDP

), De Vereniging van Beleggers voor Duurzame Ontwikkeling

(VBDO

) and the Transparantie Benchmark of the Ministry of Economic Affairs of the Netherlands, have also rated the Company providing it with useful feedback on its performance.
Ranking of SBM Offshore in Sustainability Benchmarks
| | 2017 | 2016 | Maximum Score | Ranking |
| --- | --- | --- | --- | --- |
| Carbon Disclosure Project (CDP) | C | C | A+ | n/a |
| Dow Jones Sustainability Index | 72 | 81 | 100 | 2 |
| Transparantie Benchmark of the Ministry of Economic Affairs of the Netherlands | 176 | 171 | 200 | 47 |
Future
SBM Offshore recognizes the importance of having a sustainability strategy that is goal congruent with government ambitions and the industry at large. For SBM Offshore the Paris Climate Change Agreement and the United Nations Sustainable Development Goals (SDGs) are the most comprehensive frameworks, to which the Company adheres, addressing sustainability with clear objectives.
The SDGs consists of seventeen goals with the overall objectives:
to end poverty
to protect the planet
to ensure prosperity for all
Each goal has specific targets to be achieved by 2030.
The Company has identified seven SDGs as highlighted below to focus on in the coming years by prioritizing the SDGs where SBM Offshore and its stakeholders can make a difference and where operational activities can have the most impact. SBM Offshore has taken the following steps to identify the SDGs to prioritize:
sought the opinion of employees through workshops and a survey;
performed desktop research analyzing stakeholder's focus areas;
mapped the Company's core activities against their impact on the

SDG

s.
The Company is currently progressing on defining targets against its chosen seven goals. The Company will also continue to support any SDGs where it has an impact as a result of its core activity; providing floating production solutions to the offshore energy industry.