2.1

Group Strategy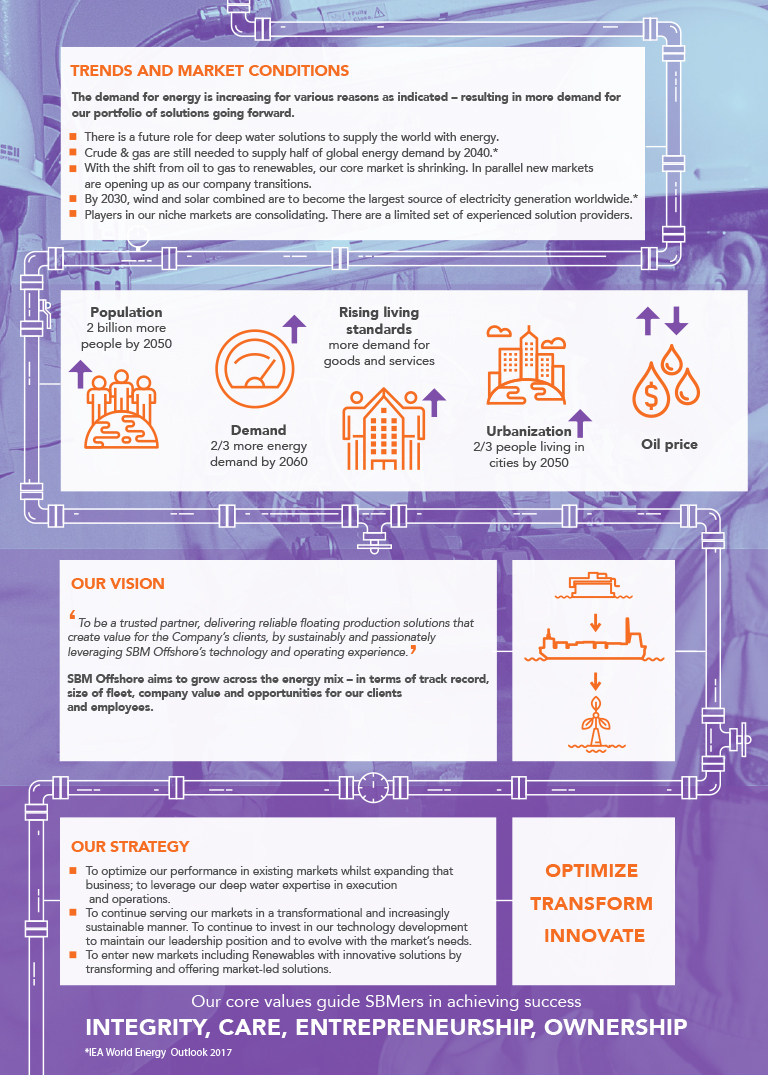 Management approach
The development of SBM Offshore's strategy is based on the analysis of energy supply and demand, feedback from stakeholders, trends in the market, the analysis of the Company's capabilities to perform in its market and the elements in the materiality matrix.
The main aim of SBM Offshore is to grow and create value in the long-term in the areas of experience, track record, size, monetary value and development opportunities for its clients. The Company continues to focus on the offshore floating energy production market and to adhere to a defined risk appetite framework as it pursues potential projects; for example expanding into other areas.
Although core markets have slightly improved over the past year, opportunities remain limited and management believes the trend will continue until 2020. However, SBM Offshore is ready to exploit these few prospects and believes that it offers appropriate solutions to meet clients' needs within the cost constraints of today's market. The Company is also leveraging its key resources and capabilities to deliver value in new, evolving markets. The Company aims to continue to be a trusted partner to clients, by collaborating on innovative floating energy production solutions and ultimately delivering on its promises to stakeholders.
Objectives for the three strategic pillars for the Company are as follows:
Optimize core business activities – ensuring targeted uptime, the highest safety rates and quality, delivered on time and on budget while continually aiming for better returns for clients. For example SBM Offshore provides Maintenance, Modification & Operation (MMO)1 services; it has over 200 modification projects completed and with a pool of technologies at its disposal, the Company ensures improved and longer performance from its assets.
Transform by bringing to market new, innovative ways of executing the Company's core solutions, which overcome the challenges and barriers inherent in this low oil price environment. Both

SBM Offshore's

Fast4WardTM

FPSO

and its digital

FPSO

concept are believed to strengthen the competitive edge of the Company going forward.
Innovate as a way to maintain SBM Offshore's technology leadership position and to evolve its product portfolio in-line with market needs and expectations, in particular, for the transition in the energy mix, to Floating

LNG

and Renewable Energy solutions.
SBM Offshore manages performance on these strategic pillars through a balanced score card framework.