1.7

Materiality-based Value Creation

SBM Offshore is fully aware that sustainable business can only be achieved by interacting with its stakeholders and understanding the impact the business has on its environment. The Company realizes that stakeholder engagement is an important source of information to assist in defining risks and opportunities as well as setting the Company's strategic objectives within the value chain.

SBM Offshore has identified industry issues, both financial and non-financial, that impact the Company's ability to create value. The results are presented in the following materiality matrix visualizing the impact the Company has on these issues and related stakeholders decisions.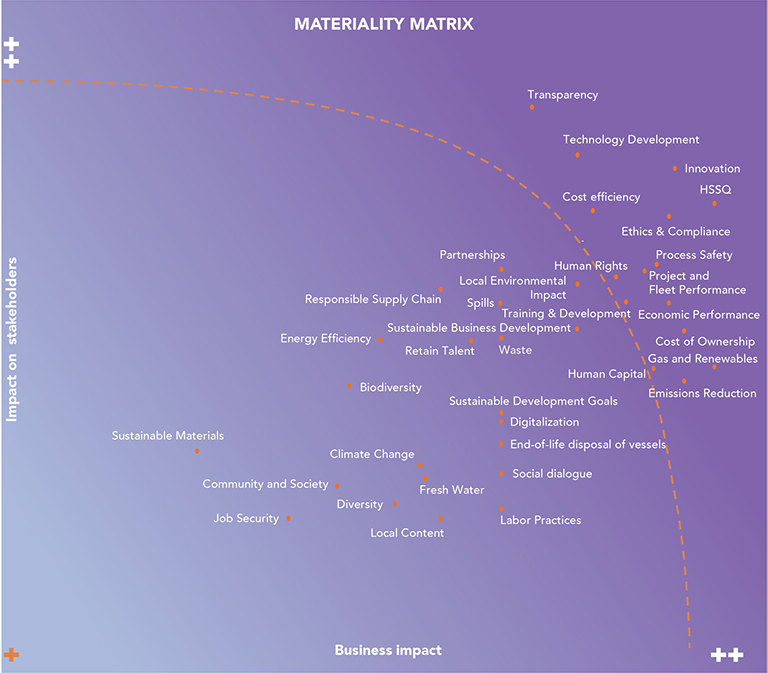 Material Topics for 2017
Based on the matrix, SBM Offshore's management has validated the list below of most of the material topics for the Company. Reference is provided in terms of where further information on these topics may be found in this report.
Strategic themes

Material topic

Business impact

Reference

Health, Safety, Security & Quality

Health, Safety,
Security
Process safety
Quality

A safe and secure work environment for our employees and contractors.

Being in full compliance with all applicable laws and regulations and to delivering products and services meeting all related regulatory requirements

Economic
performance

Project and fleet performance

Cost of ownership
Economic performance

Economic value generated, which is distributed to stakeholders including employees, shareholders and capital providers. Project and operations performance including cost management, uptime, operational excellence.

Technology

Technology development
Innovation
Gas and Renewables

Investment in Technology & Innovation, allowing SBM Offshore to provide solutions to meet its clients' requirements and to increase the Company's competitive advantage in its core market, as well as ensuring the transition into renewable energy as the energy mix evolves.

Section 2.9

Compliance

Transparency
Ethics & compliance

Compliance with rules, regulations and codes of conduct, including the Company's anti-corruption policy.

Section 3.8

Talented people

Training and development
Human capital

A work environment that attracts and retains talent in order to maintain an operational workforce to execute current and future projects.

Section 2.8

Environment

For SBM Offshore, managing environmental impact goes beyond compliance to environmental protection and refers also to environmentally friendly innovations in the operation.

Section 2.5

Sustainable business

Sustainable business is considered part of the Company's License to Operate. It covers the topics Climate Change, Local Content Development, Responsible Supply Chain and Human Rights. Sustainable business concepts are embedded in the Company's activities.
Value Creation
Sustainable long-term value creation for stakeholders is inherent to the Company's business model. As SBM Offshore provides long-lasting infrastructure that accounts for approximately 1% of the world oil production, the Company understands and recognizes its role in both the short and long-term for a safe, efficient, reliable and sustainable supply in the world's energy demand.
By (pro-actively) leveraging the knowledge, experience and values of our employees we are able to play a key role in the transition towards a more sustainable production of energy while providing them with a safe workplace.
Meeting the expectations of our stakeholders is therefore a critical part of our daily operation as well as of our strategy, in order to realize a long-term license to grow. SBM Offshore's value creation model visualizes this business model, explaining the importance of the Company in the context of the changing environment and the expectations of the Company's stakeholders. It visualizes the interdependencies of the Company's performance and shows that all results are an outcome of daily activities.
The value creation model demonstrates how the Company uses the resources and expertise at its disposal to create value for its stakeholders. The model visualizes the essential inputs and output of SBM Offshore in six capitals. In this model, the outputs have been quantified and matched with some of the Company's KPIs. Outputs have been matched to the corresponding United Nations Sustainable Development Goals (SDGs). SBM Offshore prioritizes the SDGs where the Company has the most impact and will focus on seven SDGs. For more details on SBM Offshore plans with regards to the SDGs please see section 2.12.