1.5

Competitive Landscape and Market Positioning

SBM Offshore is active in multiple energy markets − oil, gas and renewables. Oil markets mainly supply transportation and industry sectors, while gas and renewables mainly feed into power generation and industry sectors. Currently, most of SBM Offshore's revenues are derived from the deep water oil and gas markets − with a focus on its FPSO Product Line.
Market Segmentation
The global market for FPSOs can be roughly split into three segments:
Large conversion

FPSO

s: this is

SBM Offshore's

main market. They are usually converted oil tankers known as Very Large Crude Carriers (VLCCs), with typical production capabilities of 60,000 to 150,000 barrels of oil per day.
Newbuild

FPSO

s: with production volumes of typically over 200,000 barrels of oil per day. To date,

SBM Offshore

has been involved in this segment mainly as a supplier of large Turret Mooring Systems (TMS). However, with its Fast4WardTM

FPSO

design moving into the construction stage, the Company is now considered a player in the newbuild, large capacity

FPSO

business.
Small conversion

FPSO

s: based on smaller crude oil tankers, with production rates up to 60,000 barrels of oil per day.

SBM Offshore

most recently delivered Turritella (FPSO) in 2016, demonstrating technology to unlock value in tertiary fields in the US Gulf of Mexico.
Another market segmentation factor is water depth. Deeper water typically requires more complex solutions in terms of design and operations. The chart illustrates SBM Offshore's worldwide fleet expertise in ultra deep water.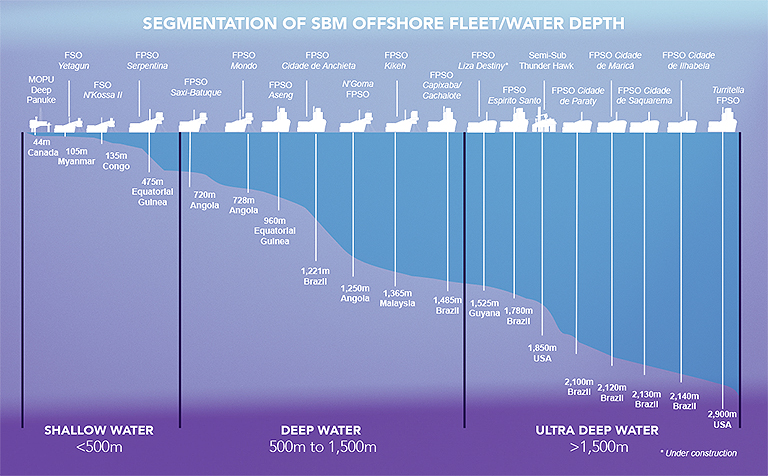 SBM Offshore is the leader in its market in terms of total oil and gas production (kboepd), the number of cumulative years of operating experience and the number of FPSO units delivered to date.