1.4

Activities and Markets

The past year saw signs of a slight recovery in the industry and further breakeven reductions have put offshore projects into the 'economically viable' category. With nine FPSO contract awards, of which four were large-scale and therefore in SBM Offshore's focus markets, there is reason for cautious optimism, as demand for the Company's core products picks up.

The oil price remained volatile in 2017, fluctuating within a range of US$ 44-66 for a barrel of Brent crude. This volatility, in combination with new sources of energy supply being integrated into the energy mix, will translate into a more limited pool of opportunities in the Company's core markets over the coming years. Management remains cautious on contracts for next year, particularly as the FPSO contract award activity in 2017 is indicative of both possible upside or downside scenarios in the short-term. The same dynamics apply to the other Product Lines that the company markets for deep water fields.

The Company is well-positioned for an upturn and the industry's need for lower breakeven costs coincides with SBM Offshore's well-timed FPSO standardization Fast4WardTM project. Fast4WardTM will fast-track projects by up to one year compared with the three-year industry average, significantly reducing costs, whilst providing clients earlier access to first oil and improving field development Net Present Value. Fast4WardTM comprises a Multi-Purpose Floater concept, a Topside Modules catalogue and range of Turret & Mooring Solutions.

In parallel, early signs of green shoots for offshore gas projects are evident, with some shelved projects being revived in a more competitive form − i.e. smaller and less complex. On the renewable energy front, the trend continues with gradual growth in this sector. In both markets, SBM Offshore is seizing opportunities and is active in pilot Engineering Procurement and Construction (EPC) stages, having adjusted its capabilities and portfolio to reflect the industry's move to gas as the transitional energy and then to renewables in the long-term.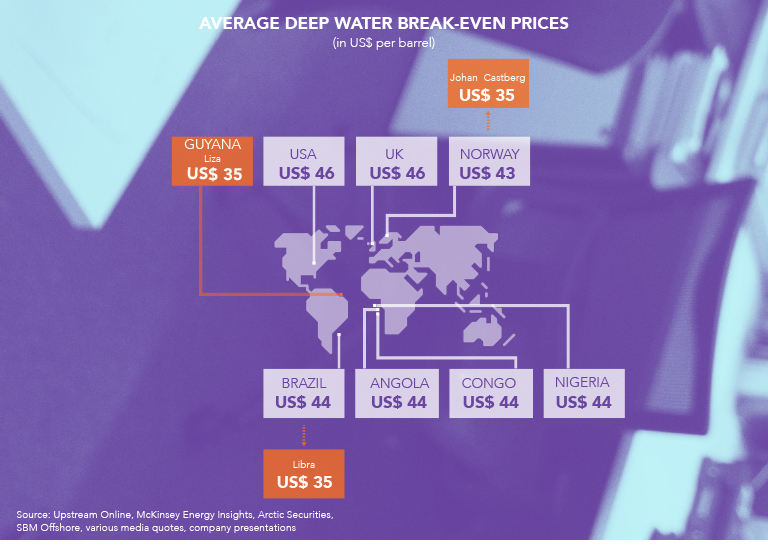 While the predicted consolidation of the industry has only partially come to pass, we see a more focused contractor landscape compared to five years ago. Going forward, few companies will be able to combine a technology portfolio, project management and engineering capabilities, operations expertise and the financing capabilities needed to deliver sizeable deep water projects across the energy mix. Furthermore, success will depend on the partnering strategy of contractors across the offshore energy production value chain. Universal consensus is that structurally, a reduction of interfaces and thereby risk is needed, in parallel with a more integrated approach to field development. A focus on the full lifecycle value − as opposed to either CAPEX or OPEX focus − is becoming increasingly important for oil companies.
2017 Performance
SBM Offshore continues to be active in the following market segments: FPSOs, Semi-submersibles, TLPs, Turret & Mooring Systems and Terminals with the main focus on the Lease and Operation of its fleet of FPSOs. In 2017, the Company achieved delivery on two turnkey projects. In addition, progress was made on FEEDs, underlining that the Company can leverage its experience – particularly in the critical preparatory stage – to help advance clients' projects to the next stage.
The major achievements included:
Delivery of the Ichthys and Prelude turnkey projects for large turrets. Commissioning for Prelude continues in 2018.

FEED

completed followed by award for turnkey and lease and operate contracts for

FPSO

for the Liza deep water field development offshore Guyana

FEED

completed followed by award for the Turret Mooring System contract on the Johan Castberg field development offshore Norway
Several contracts for CALM Terminals
Award secured for the operations and maintenance contract for FPSO Serpentina
First full year of operations for FPSOs Cidade de Maricá, Cidade de Saquarema and Turritella
Strong fleet performance with improved uptime year-on-year
Improved health and safety performance, in particular from the fleet. Environmental performance also showed progress year-on-year
future
With global population and wealth increasing, energy demand is set to grow in the next decades. Consensus among market analysts is that oil demand will continue to grow in the next years, albeit at a slower pace. Combined with current oil field depletion, supply gaps are probable, with offshore deep water oil production playing a role to fill these in the coming years. Furthermore the shift from oil to gas to renewables combined with the advantages of offshore deep water development is likely to translate into increasing demand for the Company's services going forward. The Company is continually reviewing its strategy based on market trends and believes that it is effectively adapting to this energy shift and is well-positioned for future opportunities.
A year ago SBM Offshore's view of the market was very cautious with 12 FPSO awards forecast for the two year period (2018-2019) in the bull case. This is compared to the Company's view as of year-end 2017, with an improved view of the same period reflected in the 18 FPSOs awards forecasted for the bull case. However, remaining realistic the Company believes that 14 FPSOs are most likely to materialize over the two-year period 2018-2019.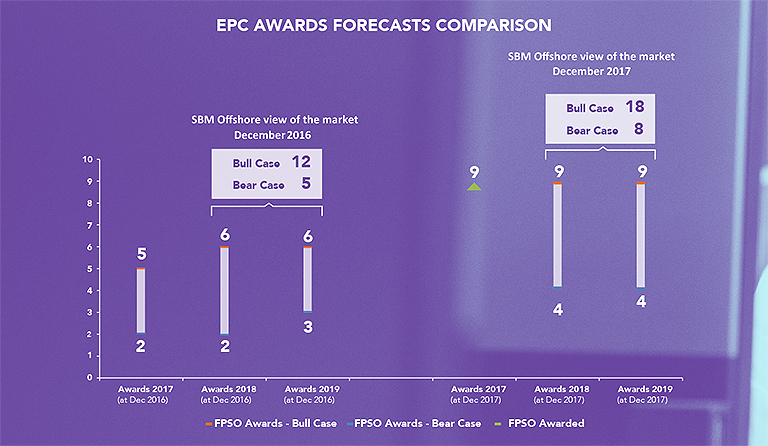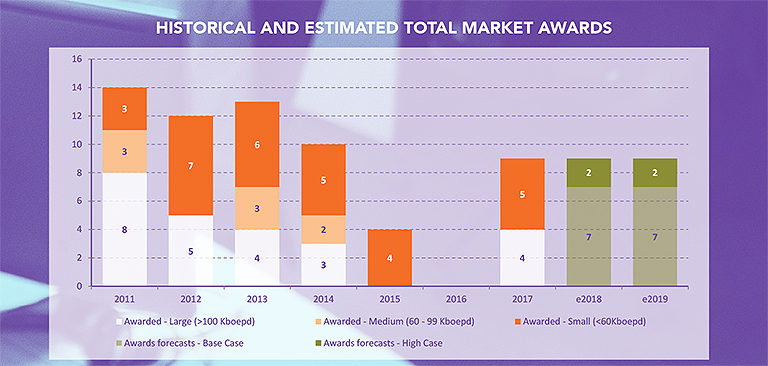 2018-2023 Market recovery
SBM Offshore firmly believes that once the market picks up – a cautious prediction for 2018 – the Company will be well-placed to be the contractor of choice for future projects. The Company is accordingly preparing for a base scenario (pick-up in demand) as well as for alternative scenarios (lower costs and renewable energy). Going forward, the Company is gearing for growth – getting ready in the next years to set the base for long-term growth.